Shop The Look:

Lace Up Shoes (on major sale!)
Tortoise Sunnies (as seen HERE!)
Hi friend!
I'm gonna keep this quick!  I'm currently cuddled up with the hubs watching old school episodes of The Office (my favorite show ever…)
It just never gets old. 🙂
It happens to be the episode featuring the screen grab below (try not to laugh… I dare you.):
When Michael Scott screwed up his definitions at Phyllis's wedding: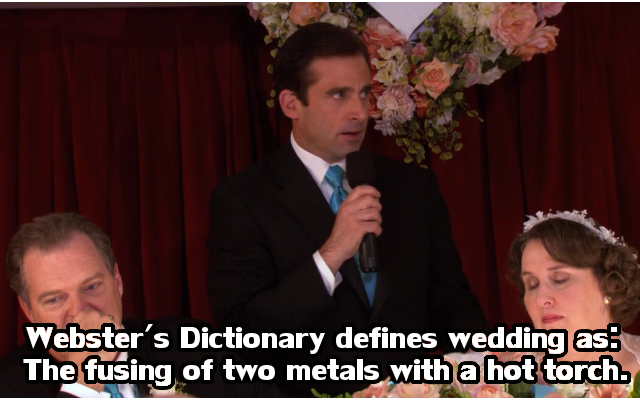 (pretty sure he meant welding…)
It doesn't get funnier than that, folks.
(Or, maybe it's just me.  I'm cracking up over here..!)
Anywhoooo, after totally digressing from the topic at hand, here are the outfit deets.
And can you believe that this
ruffled top
is only $59?  It's also available in
classic black
that would ROCK during the holiday season – highly recommended!
And these
jeans
, as worn with both my favorite monogram tote & fall sweater
HERE
, are PERFECTION with a capital "P"!  The jeans run large (which makes me feel way smaller than I actually am… and I love it even though I know it's not for real…hehe) but the hem of these jeans is what makes them a 100% winner.  It's super flattering on the leg.  The hem is chic and leg lengthening.  And these jeans are SO COMFY.  Just like the 5 other
Good America jeans
in my closet – I'm obsessed with the brand.  Thanks Khloe.
Last, but DEFINITELY not least, these
shoes
are on major sale and they are everything!  Also available in black (perf come fall) and also in
velvet
and
leather
for the upcoming colder days.  Do you recall these lace up heels from
this recent post
?  They're as phenomenal as you can imagine, I promise (promise, promise!)
Both comfy & chic.  Yes to the please. 🙂
hugs to you,
Christina
Shop the Post:

Stay frilly + fabulously YOU,